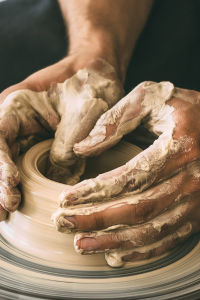 You are a small business owner.
You use your hands and your mind to make things and do things that are practical....
beautiful......
useful.....
or just fun.
Whether you make crafts to practice self care, make a few extra bucks or provide for your family, you MAKE ART.
However, making art costs money.
Supplies are expensive. Material prices just keep going up.
It takes A LOT of money to run a small business. Whether it's an Etsy store, freelance photgraphy or a pet grooming company, it seems like there is always something taking your hard earned $$.
What if I told you there was a way to make money using the products and supplies you already use?
Yup! You read that right!
I haven't paid for a single material or supply this year.
Well, I PAID for them obviously.
BUT I paid for them with money that companies gave me for recommending their products to other people.
Amazon, Makerflo Crafts, Walmart and Canva all gave me money this year for recommending products I was already using to make the things in my shops. Not only that, but they paid for all of my business fees as well.
And I wanna teach you how.
Affiliate Marketing is NOT as hard as some people make it out to be.
It's simply sharing the things you use and recommend with other people who may want to use those same products. You just share them in a special way, so companies know that you are sharing them.
In just a few weeks, you'll know how to post affiliate links to your email subscribers, social media accounts and blog posts so you can make money from the brands you know and love.